Instagram is one of the most popular photo sharing app having billion+ active users. Instagram has grown immensely by adding more and more features in recent time. On Instagram platform users can follow other users to see their update in the feed. On Instagram platform any user can make their profile public and private. In Public profile everyone can see your photos or videos post without following you where as in private profile no user can see posts without following you (Only if you accept the follow request).
Many users keeps their profile private so, other users had to follow them. On Instagram mobile app user won't able to check that how many profiles they have send the follow requests. Yes, this option is yet not available on Instagram app but don't worry we have solution for you.
Here is the step by step guide about how o find & remove pending Instagram follow requests you've sent to other users.
How to Find Pending Follow Requests on Instagram
Step 1 – Open www.instagram.com website in your Browser
Yes, this will work only if you access the Instagram website from browser. Here desktop will be more easy way to see the pending follow requests.
Step 2 – Sign in to your Instagram Account
Step 3 – Go to your Profile and Click on Settings Icon
Step 4 – Now select Privacy & Security option
Once you login to your Instagram account then go to your profile section and click on Settings icon just besides "Edit Profile" button. After clicking this option one pop up will be there so just hit on "Privacy & Security Option".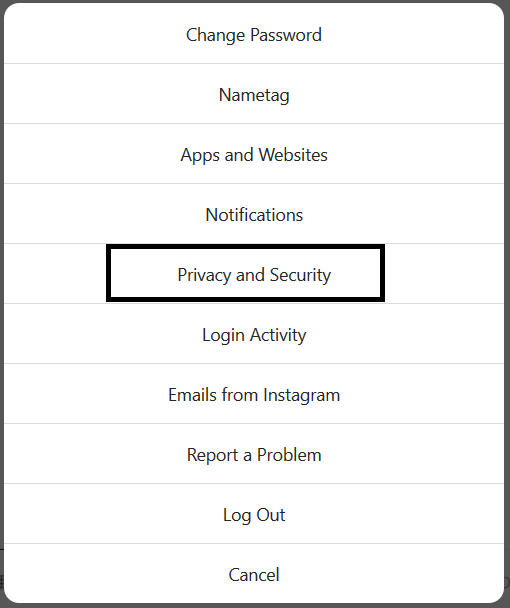 Step 5 – Click on "View Account Data" Under Account Data Section
Just scroll down in your browser and search for Account data section. Under this section click on View Account Data option
Step 6 – Click on "View All" option under Connections section and Current Follow Request text
Once you click on View Account Data option then another window will open where you can see all the account data. Now just click on "View All" option under "Current Follow Request" text. Apart from this you will able to see all other account details including Accounts following you, Accounts you follow, Hashtags you follow, Accounts you blocked and other things.
Step 7 – Find the list of pending follow request profiles
This is the final step where you can see all the profiles you have sent the request but not accepted by the end users.
Step 8 – Remove Pending Follow Requests
Currently Instagram doesn't allow you to cancel follow requests directly from this window so, you need to work little hard for it. Now search each and every USER ID in your Instagram app and cancel the follow request.
Don't worry we have one simple solution for you to unfollow pending requests in bulk. Just follow the below process.
Copy https://www.instagram.com/ this URL and paste in Excel Sheet (First Column – A1)
Copy all the user names from the list and paste in Excel sheet (Second Column – B1)
In third column do this formula for all filled cells "=Concatenate(A1,B1)" – This will merge both Website URL and User Names in one data which makes it User Profile URL – https://www.instagram.com/Instagram
Open URL Opener site in your Browser (https://www.10bestseo.com/url-opener/)
Copy all the merged URL's and paste in text box from above site
Click on "Open All" – This will open all the URL's in separate tab of your browser
Now cancel follow request by visiting each tab
Done
This is the easiest way to cancel follow requests in bulk on Instagram.
You can also directly visit this link https://www.instagram.com/accounts/access_tool/current_follow_requests after log in to see the pending follow requests.