Wielding a gun in a first-person shooter game can be historically linked to kid's yard play such as Police & Thief or Fire & Ice. Moreover, in the 90s, Sega Mega Drive delivered the first real-life gun controller game with its globally acclaimed Duck Hun which achieved unparalleled gameplay and one of the most popular games during 90's. In our rapidly evolving VR gaming scene, we have identified and listed below the best bluetooth VR guns.
#1 PP Gun Controller for HTC Vive
This controller is the pioneering HTC Vive gun-shaped controller and it comes in a bundle with its HTC controller and it can be used with most HTC FPS VR games such as Robo Recall, Overkill VR, Farpoint, etc. Its design is highly realistic as it sports an incontestable recoil effect which further improves gameplay. It sports 11 different controls that can be used to alter its settings to user's preference.
#2 PlayStation VR Aim Controller
This gun sports intuitive controls for precise and swift shots, effective motion tracking and vibration feedback in heightening user's FPS VR experience. Moreover, the Aim Controller's design is optimized for ergonomics and all its component buttons and triggers are placed in the exact location as they would be on an actual firearm. Also, it uses USB rechargeable batteries and is currently compatible with ROM: Extraction, Arizona Sunshine, Until Dawn: Rush of Blood, and Farpoint.
#3 MAG P90 VR Gun Controller for HTC Vive
This HTC Vive exclusive gadget is activated by connecting it to a Vive controller. Its impressive lightweight and dual handled carriage ensures longer gameplay. Additionally, its futuristic hardware design accented by the use of blue LED lights creates an impressive eye-candy for warfare games enthusiasts. Moreover, its affordable price point ($130 – $200) makes it a formidable contender for the best Bluetooth VR guns, while supporting the HTC Vive FPS games such as Vindicta VR, Robo Recall, and Fast Action Hero.
#4 Arena Infinity Bundle by Striker VR
The Arena Infinity is one of the most promising VR gun released as its business focuses on providing realistic gunning experiences, primarily to arcade businesses. It has a price point of $2,800 and delivers a persuasive recoil action that even has an automatic firing haptic mode. It includes a battery charging dock, two batteries, Arena Live Software Development Tools (including a sandbox range & SDK), and a wireless base station. Its designers ensured it weighs like an actual rifle and can be used as other weapons such as chainsaws in games, thereby enhancing realism and customer's interest.
#5 ProTubeVR for HTC Vive and Oculus Rift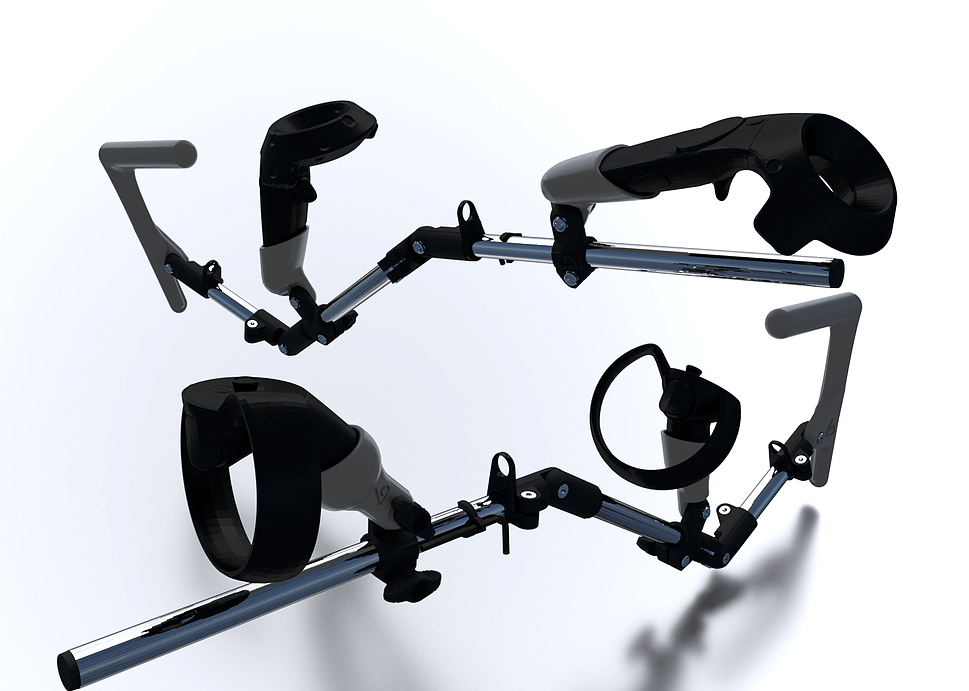 The manufacturers of this Bluetooth VR gun have designed a versatile VR gun compatible with both Vive and Rift. Moreover, the firm's smart minimalist product design approach allows the gun to be transformed to meet various VR weaponry needs. This device is highly affordable and although it might look awkward, it provides the greatest versatile VR gunning experience for games such as Eve: Valkyrie, Arizona Sunshine, and Robo Recall.
The Bluetooth VR guns listed above are those that are currently pushing the barriers to innovation in terms of ergonomics, gameplay and design, and we remain hopeful thinking of what newer releases promise VR enthusiasts.